Tenderize Recap - August 2022
Our highlight of the month was the manifesto, which takes a step back from development to discuss higher level values, goals, and objectives of what Tenderize was created to achieve in the first place.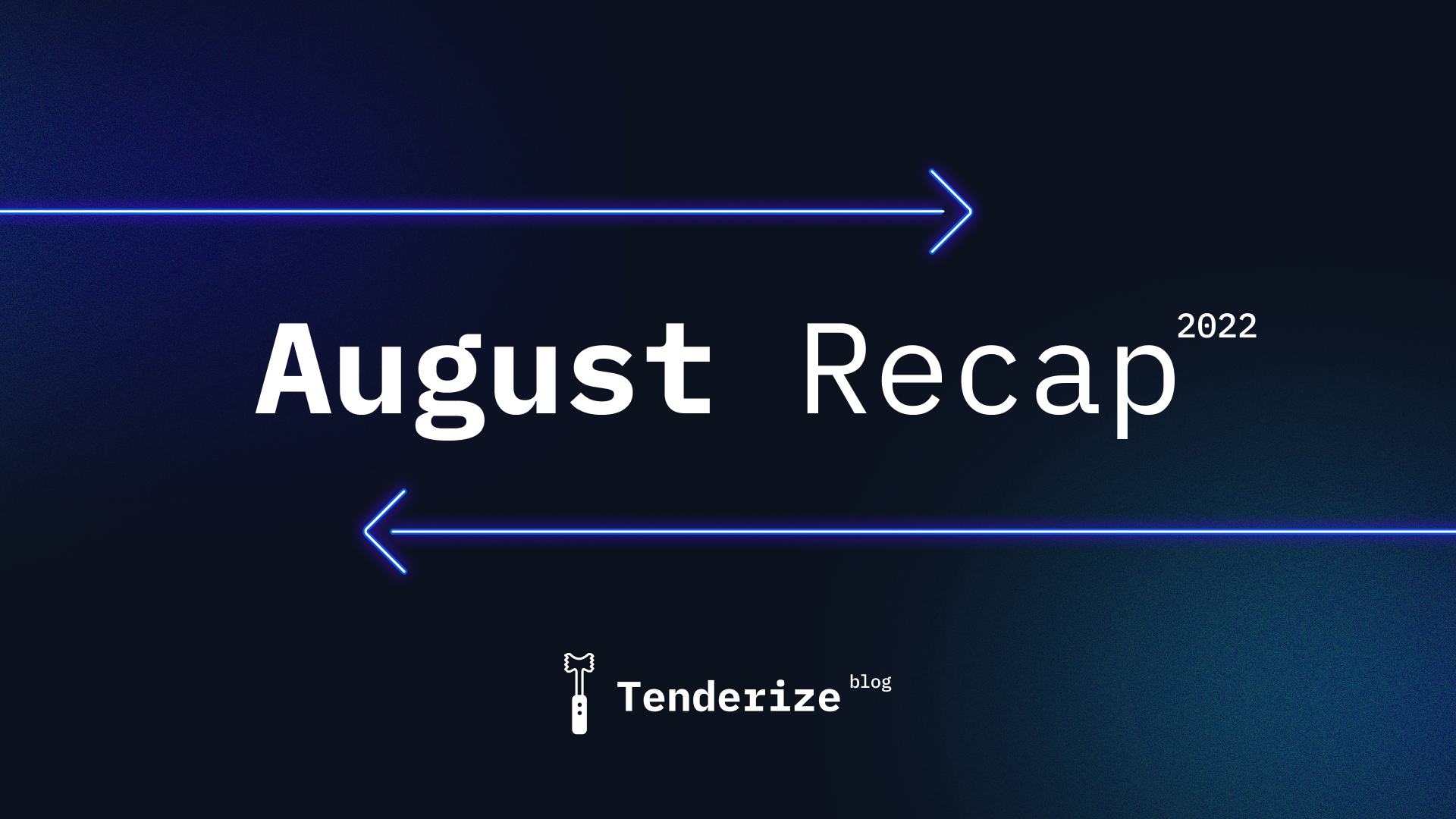 How Tenderize emerged, a new integration with Gnosis, and more! Discover all the news from August!
That brazing August heat was full on, but so was our team🌡️
This month, we launched new content exploring the ecosystems that Tenderize supports and how the idea for our protocol came about.
Our highlight of the month was the manifesto, which takes a step back from development to discuss higher level values, goals, and objectives of what Tenderize was created to achieve in the first place.
Additionally, we announced more integrations and were in full mode of development, with a developer retreat to advance Tenderize even more.
Discover all the things going on at Tenderize!
What Does Tenderize Stand For? The Manifesto
What drives Tenderize? Do you know Tenderize's end goal? Learn about how we see Web3, the importance of economic freedom, and what values we hold as our north star(s) when developing Tenderize.
Check out this cornerstone piece, essential to understanding Tenderize on a deeper level here.
As Tenderize grows in adoption on the protocol, community, and user level, this manifesto provides a foundation of principles for all to see.
From a side project to a fully-fledged protocol: Discover the Tenderize journey
Nico, our founder, first had the idea for Tenderize while working at Livepeer, one of the leading Web 3 infrastructure players.
From there, Nico recognized the need for a standalone protocol, with Livepeer backing the first iteration of Tenderize. Then, the team was formed, and Tenderize received grants that fueled the project leading up to the mainnet launch.
Today, Tenderize supports Web 3 infrastructure players to get more capital diversification and efficiency through liquid staking, with many more updates coming soon.
Learn more about the MATIC ecosystem and start earning compounded rewards
Polygon (MATIC) took the crypto world by storm by becoming the go-to Layer 2 solution under Ethereum. With its rise to fase, Polygon brought more cost-efficiency, and scalability with a low environmental footprint.
Polygon went from 0 to over 9 million daily transactions in less than a year, becoming the de facto choice for developers and investors.
Now, MATIC holders can boost their capital efficiency, earn compounded rewards, and diversify their tokens with liquid staking through Tenderize.
Tenderize integrates with Safe
One more integration🚀
Tenderize is now one of the protocols you can manage on Safe (formerly Gnosis Safe). With this new integration, you can stake directly on Tenderize through your Safe dashboard.
Safe is a leading digital asset management tool, recently raising $100M to fulfill the vision of an easy-to-use yet powerful Ethereum, crypto, and DeFi manager app.
Interested in integrating? Send an email to salim@tenderize.me.
Tenderize Dev Team Get Together!
Dev team hackathon
This month, Tenderize hosted a week-long retreat with our development team. Between sunbathes, the team went full ape mode on new ideas to implement on Tenderize and improve the quality of the protocol.
Stay tuned for many updates coming soon to demystify and democratize liquid staking.
Learn about the Livepeer ecosystem, Tenderize's first backer
Livepeer is Tenderize's initial backer, a believer in the idea of a new protocol empowering Web 3 users with more use cases built on sustainability, rewards, and flexibility.
Livepeer is a decentralized video infrastructure built under Ethereum, enabling application developers to build new apps with high-quality video.
Discover more about the Livepeer ecosystem and stake your LPT tokens on Tenderize.
Discover more about Tenderize on a new deep dive
Tenderize is supporting Web 3 ecosystems in a new age of liquid staking with compounded rewards while offering full flexibility for token holders.
Learn more about the protocol in the Unsyndicated newsletter by Mason Nystrom, an investment partner at Variant Fund and angel investor in Tenderize.
Follow all the news from Tenderize on our Twitter and blog. See you in the September recap💥