Livepeer: The ecosystem shaping decentralized video infrastructure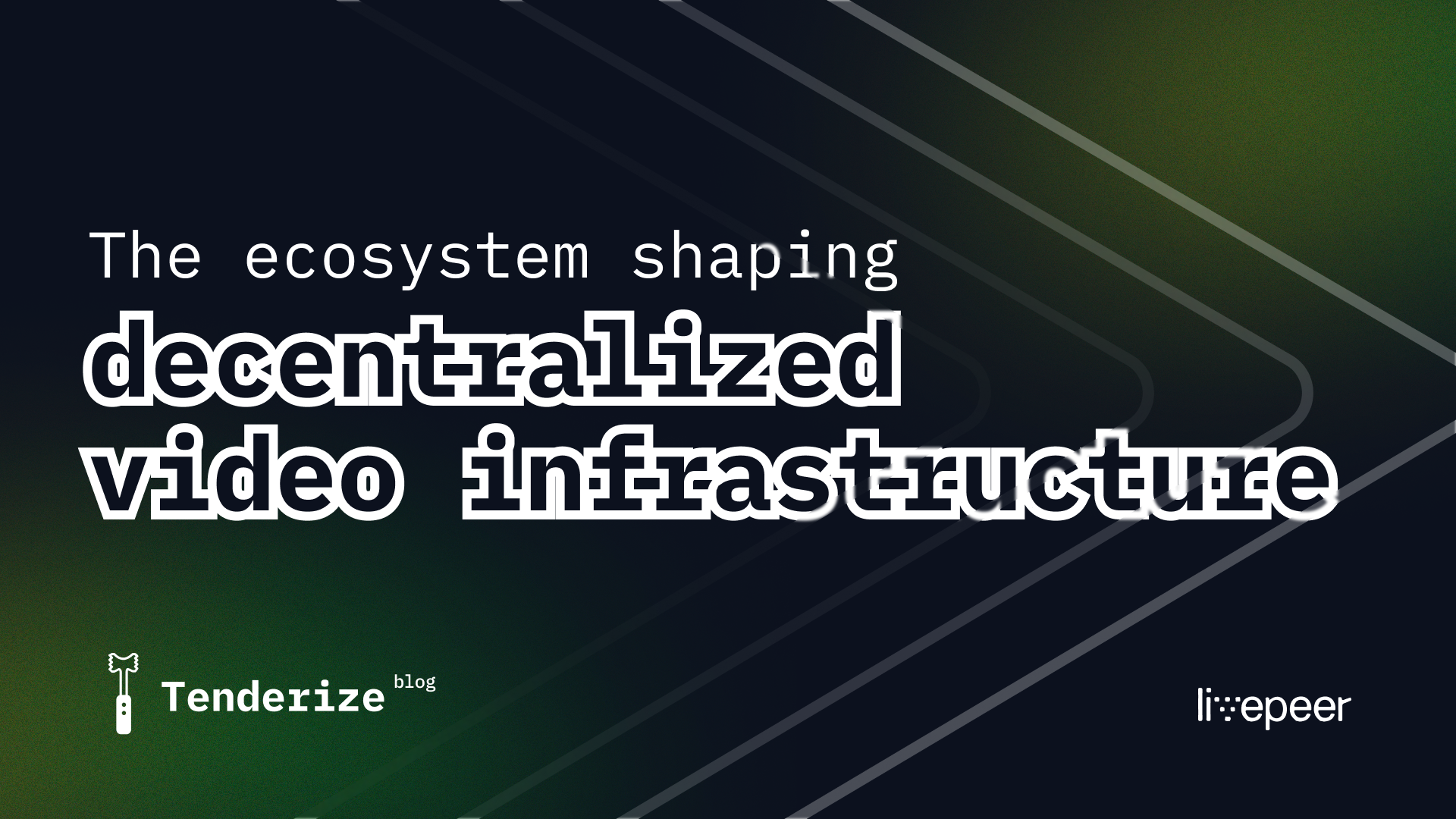 Tenderize was born out of the Livepeer ecosystem, with our founder working on new ways for LPT holders to generate rewards. From there, Tenderize branched out as a standalone product set to revolutionize capital efficiency and diversification for Web 3 token holders. Livepeer is one of the most exciting projects in the Web 3 infrastructure space, revolutionizing video in a decentralized manner. Discover more about this vibrant ecosystem.
What is the current state of video?

Video streaming accounts for 80 percent of today's internet bandwidth consumption. For example, YouTube is the 2nd most popular website in the world, with around 2.6 billion active monthly users and 35 billion monthly visits. In other words, people consume 1 billion hours of video on YouTube every day.
The importance of video is huge, from entertainment to business. For example, 60 percent of businesses use YouTube to post videos, while 90% of consumers discover new products on the platform.
With the rise of fast-paced video format platforms (e.g., Instagram reels, TikTok) and high-quality streaming needs (4K video), video consumption will only increase in importance.
We get it. Video is huge. Is there any issue with it?
High costs and centralization as the limiting force
As with many other Web 2-based solutions, the key issue still stands. Centralization.
The issue of centralization is not only on the supply side but also on the demand side. Under a Web 2 standard, people are merely users of a product, while the benefits go to monopolies and not creators.
On another side, the costs to stream high-quality video are very high due to the need to transcode into new formats, increasing the difficulty of new companies coming into the market.
According to Livepeer, transcoding a raw video file costs $3 per stream per hour or $4500 per month for one media server.
The Web 3 way: High-quality video infrastructure tied to tokenomics
Livepeer is the leading decentralized video network built under Ethereum, enabling the deployment of video in a scalable and cost-effective way.
Livepeer is for people who want to consume video in a high-quality and decentralized environment, developers who want to have video in their applications, broadcasters, and people who want to support the network.
Developers can tap into the Livepeer API and integrate decentralized video on their application, while there are other ways to benefit and be a part of the ecosystem.
On Livepeer, video miners (aka orchestrators) run the necessary equipment to transcode video and fulfill that service to enable high-quality streams. In return, video miners receive ETH or LPT tokens as a reward.
However, if people don't have the technical expertise or time to be a node runner/video miner in the network, they can contribute as a delegator. People can buy/stake LPT tokens and allocate them to video miners, contributing to the security and growth of the protocol while earning crypto rewards.
A vibrant and growing ecosystem for all participants
In the first quarter of 2022, Livepeer serviced more than 33 million minutes of transcoded video, an all-time record.
For ecosystem participants, the rewards reflect this growth. Video miners grew their revenue by 22%, while delegators increased their LPT staking rewards by 18%.
As a true Web 3 project, everything under the Livepeer network is available to check. Take a look at Livepeer Explorer for more data, from the number of orchestrators and delegators to fees paid.
With a $20 million Series-B in January 2022, Livepeer is gearing up for more updates and the execution of an ambitious roadmap, as seen from the recent integration with Arbitrum.
Livepeer and Tenderize: A natural "merge"
Tenderize's founder, Nico, was working at Livepeer when the idea for a new way to introduce liquid staking to LPT holders came to mind. One of the most exciting projects in the Livepeer community, Livepool, was also founded by Nico.
When he started to develop Tenderize as a new protocol, Livepeer funded the project with a $50K grant and offered widespread support.
Naturally, LPT was one of the "launch" tokens at Tenderize when the Mainnet launched in mid-2022. The Livepeer ecosystem can now unleash the potential of their LPT tokens with our new liquid staking protocol.
Currently, LPT holders can stake their tokens, receive the same amount of TenderTokens (a crypto derivative), and start earning staking rewards as more TenderTokens (tLPT). Stakers can enjoy their rewards while having full flexibility of their original LPT holdings, given the 0-day lock-up feature that liquid staking enables.
From there, LPT tokens holders can earn and diversify more with liquidity providing and farming, while more-use cases are on the Tenderize roadmap to fulfill the value of staked Web 3 assets.
Web 3 infra token holders can now allocate their holdings in a decentralized, permissionless, and unopinionated way. Tenderize is fulfilling that mission with an ecosystem of opportunities for staked assets.
Learn more about Tenderize and start diversifying your LPT tokens.