From idea to protocol merging Web 3 and DeFi: How Tenderize came to fruition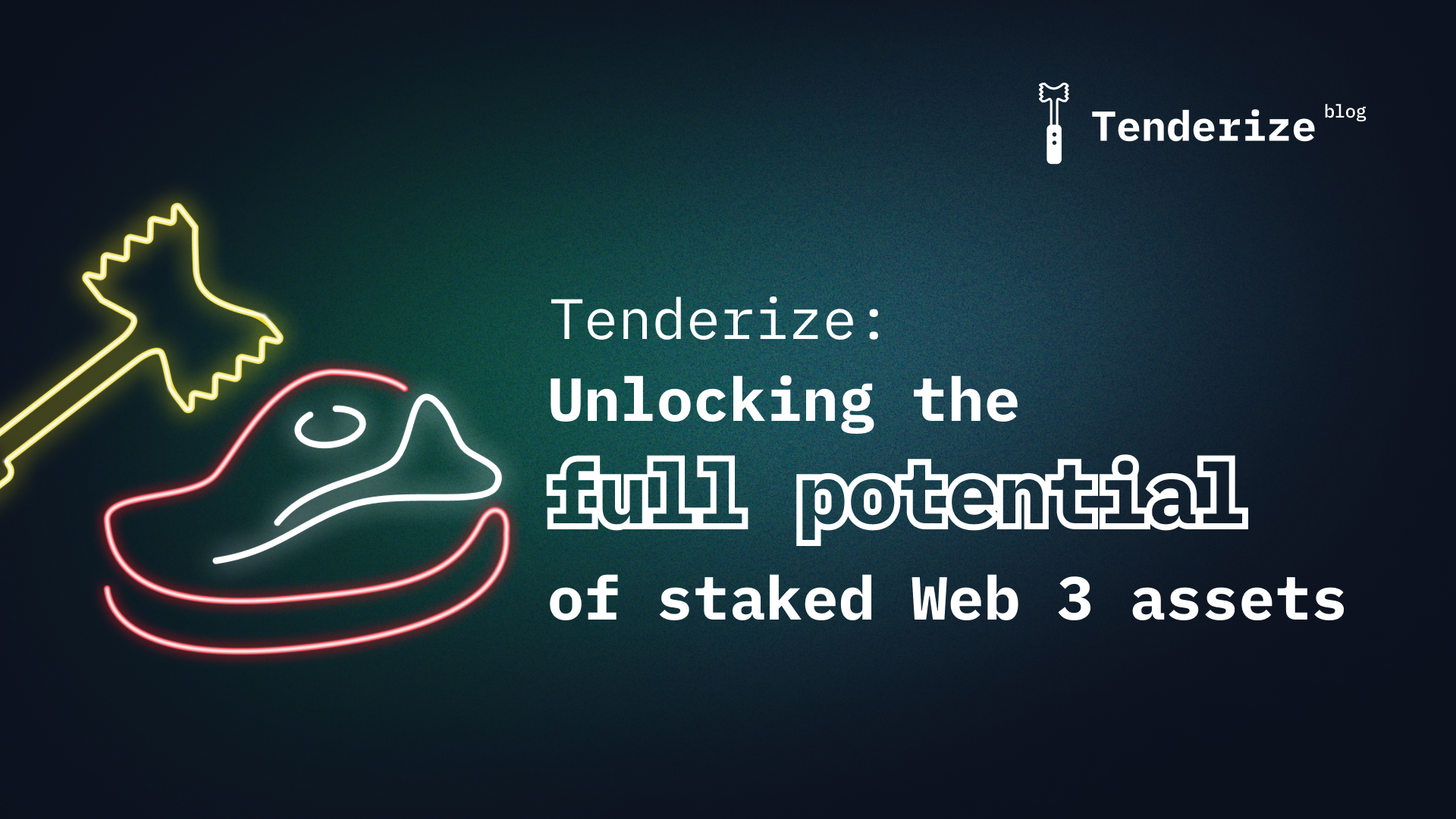 Tenderize was born from a side project within the Livepeer community to a fully-fledged novel liquid staking protocol in less than two years. Discover how Tenderize's founder, Nico, saw the need for a fresh approach to capital diversification with liquid staking and the journey to get to a full product in the Web 3 ecosystem.
From the Livepeer ecosystem, through Yearn vaults to a new protocol

What if Web 3 token holders could have even more use cases on their staked assets and take full advantage of DeFi investment vehicles?
That idea gave Nico, now founder of Tenderize, the trigger to explore what Tenderize could be.
It all started in late 2020 when Nico was working with staking and smart contracts at Livepeer, a leading Web 3 video infrastructure provider, enabling applications to incorporate videos in a decentralized, low-cost, and high-quality manner.
Nico's first approach to bringing this idea to reality was to explore Yearn.Finance vaults for LPT - Livepeer's native token - holders. Yearn vaults are essentially pools of tokens, enabling passive income opportunities.
However, technical difficulties on Yearn.Finance with staked assets showed  that Tenderize was better off as a stand-alone protocol in fulfilling the vision of Web 3 tokens and DeFi together.
What started as a side project in the Livepeer ecosystem was going to see the light of day independently.
Today, Livepeer is one of our launch partners, with LPT holders diversifying their tokens on Tenderize through liquid staking, farming, and liquidity providing, with more use-cases coming soon.
Joining the "hackathon road," from ETHGlobal 2020 to HackMoney 2021

Nico had the idea. Now, he needed a team and product-market fit.
Nico assembled a team for ETHOnline 2020 to test the MVP with the support of Livepeer and Keep Network.
At this time, the Tenderize product had three major goals:
Providing flexibility to staked assets
Make it efficient and easy to use
Lower gas cost
Tenderize's first version enabled staking LPT tokens, while the protocol automatically reinvested rewards in the form of TenderTokens, a derivative issued based on the original token holdings. Users could, at any time, convert their TenderTokens for the original holdings through a Balancer Smart Pool.
At ETH2020, Tenderize integrated with more projects like 1inch and Keep beyond the initial support by Livepeer, winning the 1st prizes from the 1inch Exchange, The Graph and Keep Network Sponsor Prize contest.
From there, Tenderize joined another DeFi hackathon by Solana, winning 3rd place at the event by introducing a liquid solution for Solana tokens, paving the way for existing liquid staking protocols on Solana like Lido and Marinade Finance.
With a new founder on board, Reuben, Tenderize joined the 0xHack hackathon and won the best DeFi project integrating with Polygon (MATIC). Today, MATIC token holders can enjoy the fully-fledged version of Tenderize to diversify their holdings, boost utility, and generate sustainable rewards.
The wheel kept spinning, and we joined more events like HackMoney 2021, winning more prizes and getting more validation for the vision of a Web 3-based liquid staking platform.
From hackathons to grants, making Tenderize a reality
This was a game-changer. We looked for partnerships with leading Web 3 protocols to set up the next phase at Tenderize.
The results couldn't have been better.
We received a $30K grant from The Graph protocol, integrating GRT into Tenderize. Currently, GRT token holders can stake, provide liquidity, and farm on Tenderize, receiving rewards for their computational resources, an essential part of the Web 3 ecosystem.
But it didn't stop there.
Livepeer, our "OG" partner, offered a $50K grant for Tenderize to go to the next level and enable more capital efficiency and diversification for the LPT ecosystem, from video miners to delegators.
Tenderize testnet was going full speed ahead with new integrations and more involvement from new team members. At ETHLisbon, the team finally met in person and worked on new partnerships, setting the stage for 2022.
Tenderize: Unlocking the full potential of staked Web 3 assets
From hackathons and grants to a fully-fledged ecosystem. We recently launched the first full version of the Tenderize protocol, as a first step towards achieving the vision of a flexible and sustainable system.
Today, Web 3 players can go on Tenderize and boost their capital efficiency and diversification with the initially supported tokens: LPT, GRT, and MATIC.
Tenderize is an end-to-end protocol for unlocking utility on staked assets, offering flexibility for holders by introducing crypto derivatives - TenderTokens - into the picture.
Web 3 token holders can stake them and receive rewards as TenderTokens while having their original tokens available to use in other vehicles, boosting diversification.
From there, you have the option to farm and provide liquidity. But, Tenderize is much more. We want to build long-lasting relationships with premier protocols, creating more use-cases and initiatives.
The community involvement with Tenderize through regular discussions to governance power is a key part of that goal. We will soon have more news in that direction amid an ambitious roadmap.
Stay tuned for more exciting updates coming in the next months and follow our journey.