Tenderize September Recap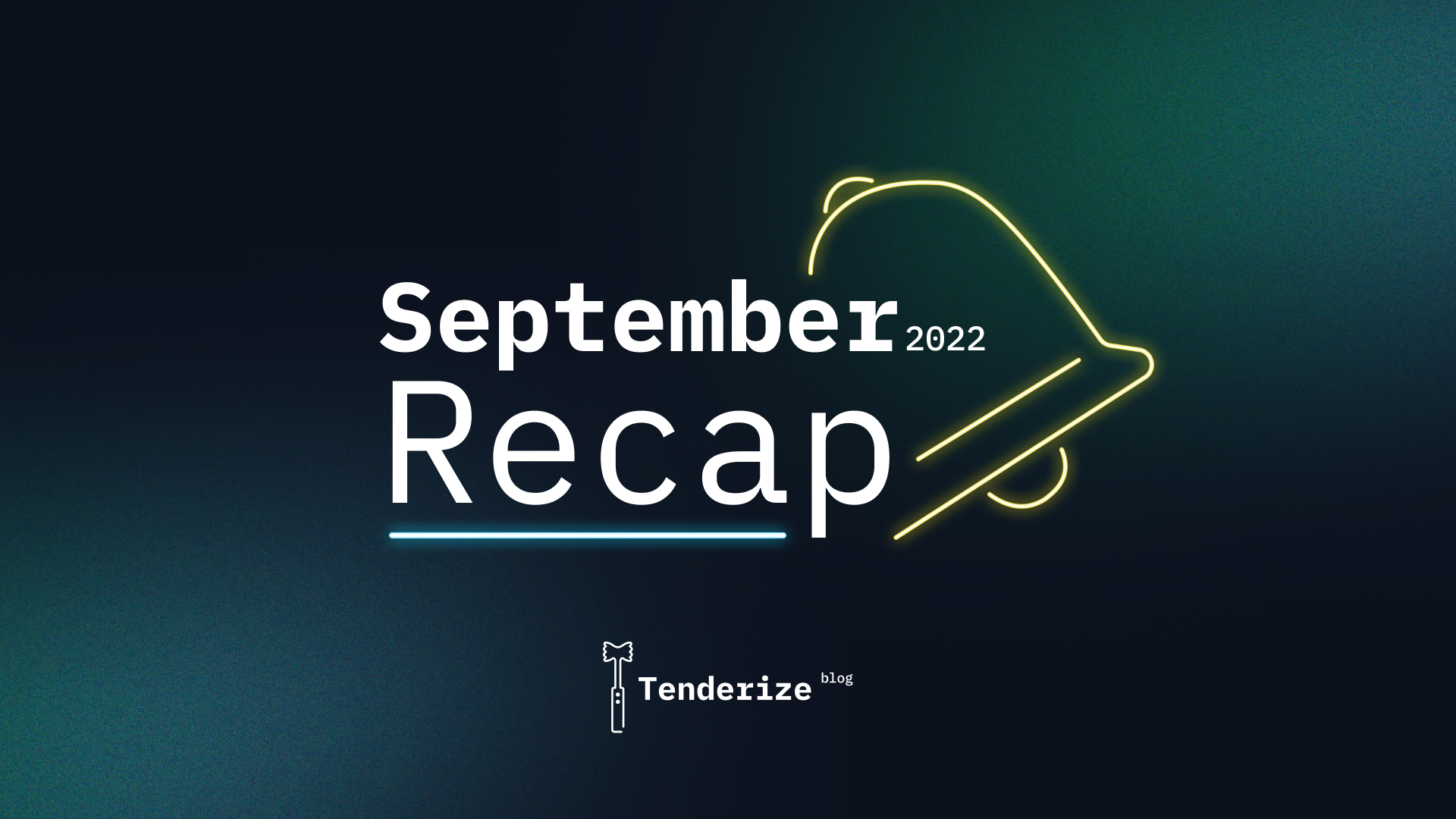 Crossing $1M in TVL, spreading awareness of tokenized assets at leading events, and hiring rock stars for our team! Check the September recap at Tenderize.
The summer came to an end with exciting news! This month, Tenderize crossed the historical mark of $1M in TVL across tokens, propelling us into a new stage of development.
To grow more, Tenderize is spreading awareness about tokenized assets at leading events while looking for talented people to join us.
Discover all the updates from September!
Boom! Crossing $1M in TVL for the first time
September 9 will forever be remembered in our history as the first time the Total Value Locked on Tenderize crossed the $1 million mark!
Passing such a landmark proves the need for an asset tokenization product like ours to bring more capital efficiency and diversification to Web 3.
During September, the Tenderize TVL reached a record of $1.15M while finishing the month hovering over the $1M mark. Will we see another record in October?
Learn more about Tenderize and tokenized stake
Not sure about what tokenized assets mean? Are you looking to understand what Tenderize can do for you?
Check out our first video ever explaining the key concepts behind Tenderize and how it will transform use cases for Web 3 token holders.
AMA with the Polygon ecosystem: Our founder answered your questions!
Last week, our founder joined Polygon for an AMA with the community and answered all the questions about tokenized assets, Tenderize, and more!
The AMA was a blast with a lot of questions from the Polygon ecosystem, one of our launch partners, with the chat going from current use cases on Tenderize to potential new solutions.
Check the AMA recap here.
A chat with Defi Slate
A few days after the Polygon AMA, Nico spoke with Defi Slate to discuss how tokenized stake revolutionizes the macroeconomics of crypto, setting a decentralized precedent for other finance protocols to follow.
Watch the full recording here:
https://www.youtube.com/watch?v=NFDYopSJrgI
Development is not slowing down, with the Tenderize team working at ETHBerlin
The Tenderize team at ETHBerlin
Our dev team joined at ETHBerlin to play around with new use cases in the tokenized space, testing bridging solutions using Nomad.

Our team is always experimenting with other tools to come up with new solutions that benefit the capital flexibility of token holders.
Our COO spread the word about tokenized assets at Web3Dubai
Our COO spoke at Web3Dubai, a leading event gathering top builders and developers in the decentralized space.

Salim spread the word about what Tenderize is building and even offered a sneak peek about the upcoming Tenderize V2.
Are you a crypto developer, growth marketer, or an animator? Tenderize is hiring!
Tenderize is on the lookout for world-class "butchers!"
Are you a Full-stack or Solidity focused engineer? Reach out and come help build the best tokenized assets ecosystem.
Do you know how to grow social channels while bringing traffic and new customers? We have a place for an experienced growth marketing consultant. Send us a message!
Are you a master in editing videos, coming up with creative ideas, and animating them in video format? Join us as an animator.
Tenderize by the Numbers
Users and Cumulative users - Unique addresses depositing 1 full token or more into Tenderize
Total staked - The amount of tokens delegated by Tenderize to node operators on the supported protocols

Annual Percentage Yield - The average percentage yield for depositing tokens in Tenderize

* Actual APY could be lower than displayed due to irregular reward periods skewing the data set. The team is currently investigating methodology improvements.
Liquidity Pools - The balances of the liquidity pools for Tenderize's TenderTokens

Liquidity Ratio - The ratio of underlying tokens in the liquidity pool versus the amount delegated

Farms

Follow all the news from Tenderize on our Twitter and blog. See you in the October recap⚡