Tenderize Recap - July 2022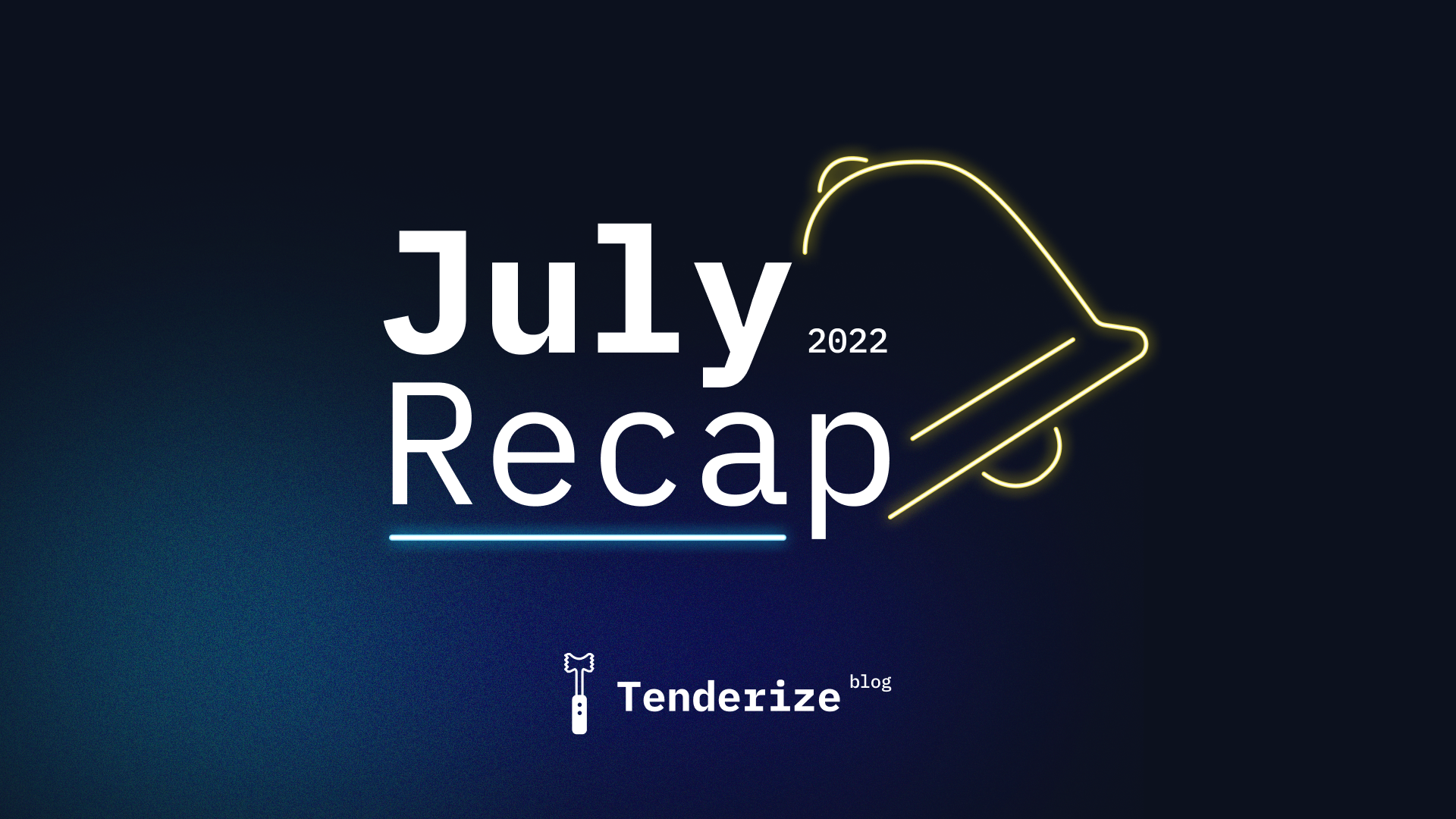 Tenderize raises a $3m seed round, launches staking for AUDIO, and partners with leading crypto brands. Check the July recap!
The Summer of updates at Tenderize is here☀️
We announced the closing of a $3M seed round set to propel the protocol into new heights and build an entire ecosystem of value for Web 3 token holders.
But we didn't stop there. Tenderize users can now stake AUDIO tokens through Tenderize and enjoy the benefits of liquid staking amid new partnerships and community events.
Discover all the news at Tenderize from July!
Tenderize raises $3M to unlock the value of staked assets
Long-term and sustainable liquid staking is the future, and Tenderize is in a prime position to become the leader of the space.
Until now, Web 3 stakeholders had to choose between having liquidity and securing their favorite network. Not anymore.
Tenderize just raised a $3M seed round to build an entire ecosystem around the potential of staked assets.
The funding round was led by a leading crypto venture capital firm, Eden Block, with the participation of infra companies, investment firms, and angel collectives like Figment, Daedalus, and TRGC.
Tenderize made the list of one of the top crypto funding rounds of the month!
The team is already expanding the current ecosystem of solutions for Web 3 token holders with new partnerships and more value propositions. Learn more.
Tenderize launches its fourth supported token ecosystem, Audius
The launch roster of Web 3 tokens is closed! We just announced the 4th token to be released into Tenderize, AUDIO!
Tenderize is now unlocking the value of liquid staking for the Audius ecosystem, offering a 16% APY on staking AUDIO while enabling liquidity providing and farming for extra rewards.
As part of our roadmap, more solutions will be coming in the future for AUDIO holders to have even more capital efficiency and diversification avenues in a staked environment. Stay tuned!
Learn more about the Audius ecosystem

Currently, over 500 million people subscribe to music streaming services. Is there a better way, under a Web 3 standard, for artists and fans to come together?
Audius is a decentralized music platform, enabling creators to publish their music and get discovered while offering a high-quality streaming service for music lovers.
On the Audius ecosystem, content and discovery nodes work on fulfilling the service to enable artists to post their content while making it available for fans to discover and enjoy untapped music.
Discover more about how you can become part of the Audius ecosystem as a developer, artist, validator, node runner, or fan.
Tenderize partners with Unstoppable Domains
Unstoppable Domains is the number 1 provider of crypto and NFT domains, enabling a simple and sleek user experience for people onboarding into the decentralized ecosystem.
With this new partnership, Tenderize now supports Unstoppable Domains logins on the platform, improving the experience and speed to stake your Web 3 assets.
Learn more about this partnership and our efforts to simplify the Web 3 onboarding experience and cross the chasm into mainstream adoption.
How can Tenderize offer yield on your holdings?
Tenderize at one point gave chefs 160% APY on TenderGRT. How does the protocol offer these yields?
Tenderize allocates funds to the best-performing nodes under each network, enabling long-term rewards.
We are focused on building a permissionless and unopinionated protocol for Web 3 while increasing capital efficiency and diversification. Learn how.
Tenderize at EthCC 5 and Dubai Meetup
The Tenderize team was across continents in recent days, participating in key crypto events.
Reuben, one of our co-founders, was at EthCC 5, the biggest Ethereum event in Europe, meeting partners and friends in the ETH ecosystem.
Reuben (on the left) at EthCC 5 and Yahya from Livepeer (right) at EthCC 5
Meanwhile, Salim, our COO, was mingling with the developer community in Dubai, spreading knowledge about Tenderize while receiving key insights from the dev community at this Developer DAO meetup.
Salim at the Developer Meetup
Tenderize on Zapper and DeBank

Tenderize inked two new partnerships this month with leading DeFi and Web 3 tracking providers.
You can track everything about the Tenderize protocol on DeBank and Zapper. You'll find information like the assets on the Tenderize portfolio, the division of staked assets between Ethereum and Arbitrum, and much more.
Start tacking on DeBank and Zapper today!

Follow all the news from Tenderize on our Twitter and blog. See you in the August recap🔥